Country Dance Lessons and Social Dancing
☆ Sept 17th 2022
$20 per person -1 free beers & dance lessons
Sign Up: https://tightknitbrewing.square.site/
Have you ever wanted to learn how to dance but don't know where to start? What if you tried country Swing Dancing? This fun, partner dance helps you gain great dancing skills and confidence. You can use these skills on any dance floor, to all types of music!
We will be teaching beginner-intermediate – & advanced moves throughout the lesson. As Well as a line dance for those who want to dance on their own.
Still, need some liquid courage? Great news! Brix is providing you with one free beer with your lesson and social dancing ticket!
Signing up with a partner to aid in your ability to learn; however, we give the option to rotate partners (for those who are comfortable doing so.) So everyone has the opportunity to learn! We also provide extra instructors to dance with if you do not have a partner.

Lessons Time Line for the Night
6pm – 7:15pm line dancing
7:15 to 8:30 Swing dancing
Social Dancing 8:15 to 10pm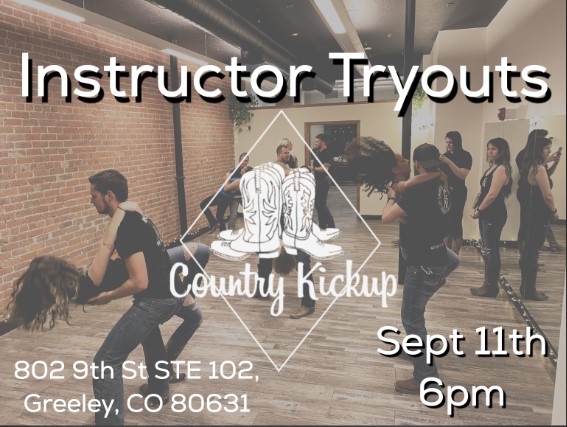 Instructor Tryouts
SUNDAY, SEPTEMBER 11, 2022 AT 6 PM
802 9th St STE 102, Greeley, CO 80631
6-8pm
Country Social Dancing – Sept 17th 2022
$20 per person-1 free beer & dance lessonsSign Up:
https://tightknitbrewing.square.site/Have you ever wanted to learn how to dance but don't know where to start? What if you tried country Swing Dancing? This fun, partner dance helps you gain great dancing skills and confidence. You can use these skills on any dance floor, to all types of music!
We be teaching beginner – intermediate – & advanced moves throughout the lesson. As Well as a line dance for those who want to dance on their own.
Still, need some liquid courage? Great news! Brix is providing you one free beer with your lesson and social dancing ticket!
Signing up with a partner to aid in your ability to learn; however, we give the option to rotate partners (for those who are comfortable doing so.) So everyone has the opportunity to learn! We also provide extra instructors to dance with if you do not have a partner.
Lessons
6pm – 7:15 pm line dancing
7:15 to 8:30 swing dancing
Social Dancing 8:15 to 10pm
☆ Sept 17th 2022
Country Swing & Line Dance Lessons – ☆ Oct 1st 2022
$20 per person-1 free beer & dance lessonsSign Up:
https://tightknitbrewing.square.site/Have you ever wanted to learn how to dance but don't know where to start? What if you tried country Swing Dancing? This fun, partner dance helps you gain great dancing skills and confidence. You can use these skills on any dance floor, to all types of music!
We be teaching beginner – intermediate – & advanced moves throughout the lesson. As Well as a line dance for those who want to dance on their own.
Still, need some liquid courage? Great news! Brix is providing you one free beer with your lesson and social dancing ticket!
Signing up with a partner to aid in your ability to learn; however, we give the option to rotate partners (for those who are comfortable doing so.) So everyone has the opportunity to learn! We also provide extra instructors to dance with if you do not have a partner.
Lessons
6pm – 7:15 pm line dancing
7:15 to 8:30 swing dancing
Social Dancing 8:15 to 10pm